PyCon Namibia returned after two years of COVID. This three-day event featured a roster of Namibian and international speakers on a variety of programming topics, including data science, robotics, careers, Infrastructure and web applications. The conference was held at Kleines Heim, in Windhoek from February 21–23, 2023.
In 2020, PyCon NA was one of the very last PyCons to take place as planned before the COVID pandemic struck. In 2021, we held an online edition. In 2022, we took a break. In 2023, we had speakers  from Namibia, Botswana, Nigeria, the United Kingdom, Spain, Zimbabwe, South Africa, Mozambique, and Romania.
PyCon Namibia has a track record of advancing programmers in their careers. I am one of the people who got the opportunity to enter the international tech industry, and we also have Jessica Upani, who stays in Berlin. Speaking to one of the organisers, Ngatatue Mate, one of the conference co-founders, said, "Our mission continues: to see more software being created in Namibia and to see more Namibians succeeding in the software industry. This year, aspiring programmers had the chance to meet recruiters from Namibian and international software companies." I am happy that some local companies showed up.
Thank you LaLoka Labs for giving me the opportunity to be with my community during working hours. I was flexible enough to support the community I love, the community I built. I have been part of this community since 2015.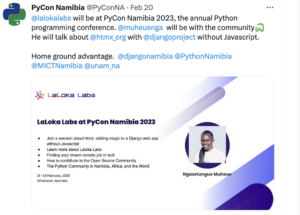 Day 1 – 3  
As one of the organisers of the conference, I had a great time interacting with many participants, which gave me a clear picture of what is happening in the Namibia Python community. The conference always started around 9 am., and 8am was for registration. The full conference programme is here .
Workshops
Normally, we open the conference with a Django Girls workshop and an introduction to Python. Unfortunately this year there was no Django Girls workshop. Juan Luis Cano Rodríguez, one of the speakers and organizers from Spain, ran a "Workshop: From Zero to Python and Beyond", to welcome beginners and allow them to have a basic understanding of Python before they attend other talks. In this workshop, he explained the basics of Python from the very beginning, without assuming any prior knowledge. The Namibian tech industry is small, but it is a huge success, so the conference always gives opportunities to beginners.
At the same time, Andreea Munteanu  was running a workshop titled "Move data science beyond experimentation with MLOps platforms". The hands-on workshop introduced MLOps platforms to scale up data science initiatives to the audience. It was one of the best workshops.
We had only one workshop about Humble Data on Day 2. In this workshop, Cheuk-ting Ho, Shan Sun, and John Sandall helped beginners get started with data science using Anaconda, and most importantly, it was aimed at those of us who are outside the mainstream in data science. There was other workshops such as Workshop: Python Beyond Imagination – Python for microcontrollers by Olaniyan Adewale Hafeez.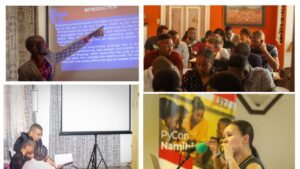 Talks
There was great talk about careers and the programmers futures by Daniele Procida. In this talk, Daniele explained to the audience about the skills and experiences software companies are looking for when hiring software developers or anyone else in the tech space. It was one of the best talks because it reveals some of the secrets of recruiting in the software industry from an insider's perspective. After this talk, I shared one of the blog posts by Iqbal. This blog post explained what Daienele was talking about.
We had the opportunity to listen to Festus Abiatar, one of Namibia's inspiring software developers who uses Python and Django to solve problems at work. This was a great talk that left audiences talking about it; he integrated his application with the government system.
I also attended Ronald Maravanyika's talk; Ronald is a DevOps from Zimbabwe. He talked about how he saved people's jobs as the company was threatening to leave their country by using Python.
There were other great talks and workshops that I skipped because I was also handling other logistics of the conference. Although I missed some talks and workshops, I had opportunity to interact with them during break.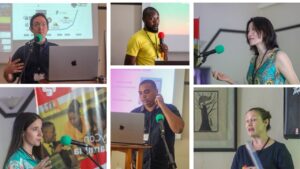 During my tea break, I was given the opportunity to talk to Namibia Broadcasting Corporation (TV) journalists. This was an opportunity to talk to the Namibian community about the importance of PyCon, how the conference helped me, and Laloka Labs, the company I work for. I appeared on the national TV news.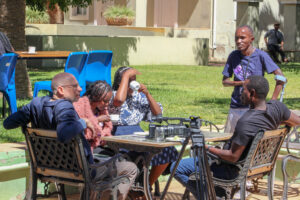 I was part of the panel of discussion about careers in software with Kudakwashe Siziva, Ruth Ikegah, Juan and Daniele. Here I explained to them how I got a remote job, who I worked for and what we do. This was one of the platforms I used to explain about the work of LaLoka Labs.
The audience was amazed that I worked for the company in Tokyo but stayed in Namibia. It was an open session because participants were given the opportunity to ask about our experience in the industry.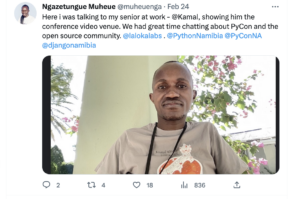 Final day was great, fun, emotional and at the same time it was stressful on my side. That was the day I was giving a talk. I looked at Learn how to add modern frontend features to a Django application – without having to use Javascript.
The community

The conference brought the community together, and it was a good opportunity to take pictures with some of the participants. Taking pictures in groups is something we do all year to keep memories. The high school learners are part of the Python Software Association of Namibia user group called PYNAM Scholars. That's an initiative that targets high school learners around the country to take part in Python and tech in general.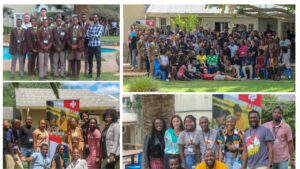 I got an opportunity to talk in a circle with speakers and participants during a break. Most of our discussion was about tech in general, PyCon around the world, the open source community, and everything related to life. I also had a great time talking to Angelique Trusler about The Carpentries. The Carpentries is a nonprofit organization that teaches software engineering and data science skills to researchers through instructional workshops. Angelique is so brilliant, and she took us through how The Carpentries works and what is expected from the Python community in Namibia since we partnered with the organisation.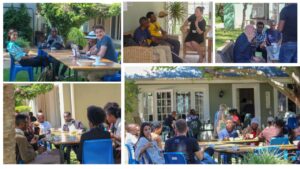 During break everyone was taking pictures for their social media platforms.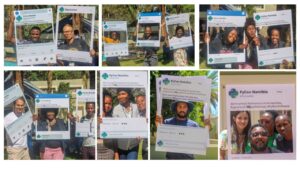 Evening Dinner
It has become normal that most PyCon speakers always request local traditional food, and this time around we took all the speakers who were free to one of the local traditional food restaurants, and we had a great night together. They ate Mopane worms and some other local food.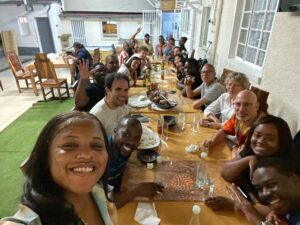 Our Giant PyCon NA in the desert.
The giant PyCon NA in the desert is no longer there. We need it back; come to PyCon Namibia 2024 and help us restore our pride.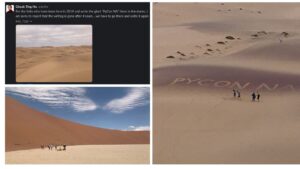 Overall
We spent months planning the event to ensure its success. The workshops and talks from various speakers were relevant and extremely beneficial and I had a great time. I discovered amazing people from different parts of the world that have become part of my life today.
I came for the community and I will stand by their side.
Until next time.