The 48th ASEAN-JAPAN Business Meeting
This year, I attended the 48th ASEAN-Japan Business Meeting as a panelist, which was held this year from the 7th to the 9th of December 2022.
The ASEAN-JAPAN Business Meeting (or AJBM for short) is a business meeting for business leaders in the ASEAN region and Japan to get together, network, discuss, and take action for better cooperation and the betterment of the economies between ASEAN and Japan.
Japan and ASEAN take turns hosting the meeting. I also took part as a participant when the meeting was done in Bali for the 44th edition of AJBM.
This year, it's Japan's turn. Keizai Doyukai, led by its chairman Mr. Sakurada Kengo and the chairman of the Asia Project Team, Mr. Hirako Yuji, hosted us in Shinagawa Prince Hotel.
Day 1: Welcome Reception
We started with a reception dinner for panelists, participants, and delegates from ASEAN on the night of 7th December.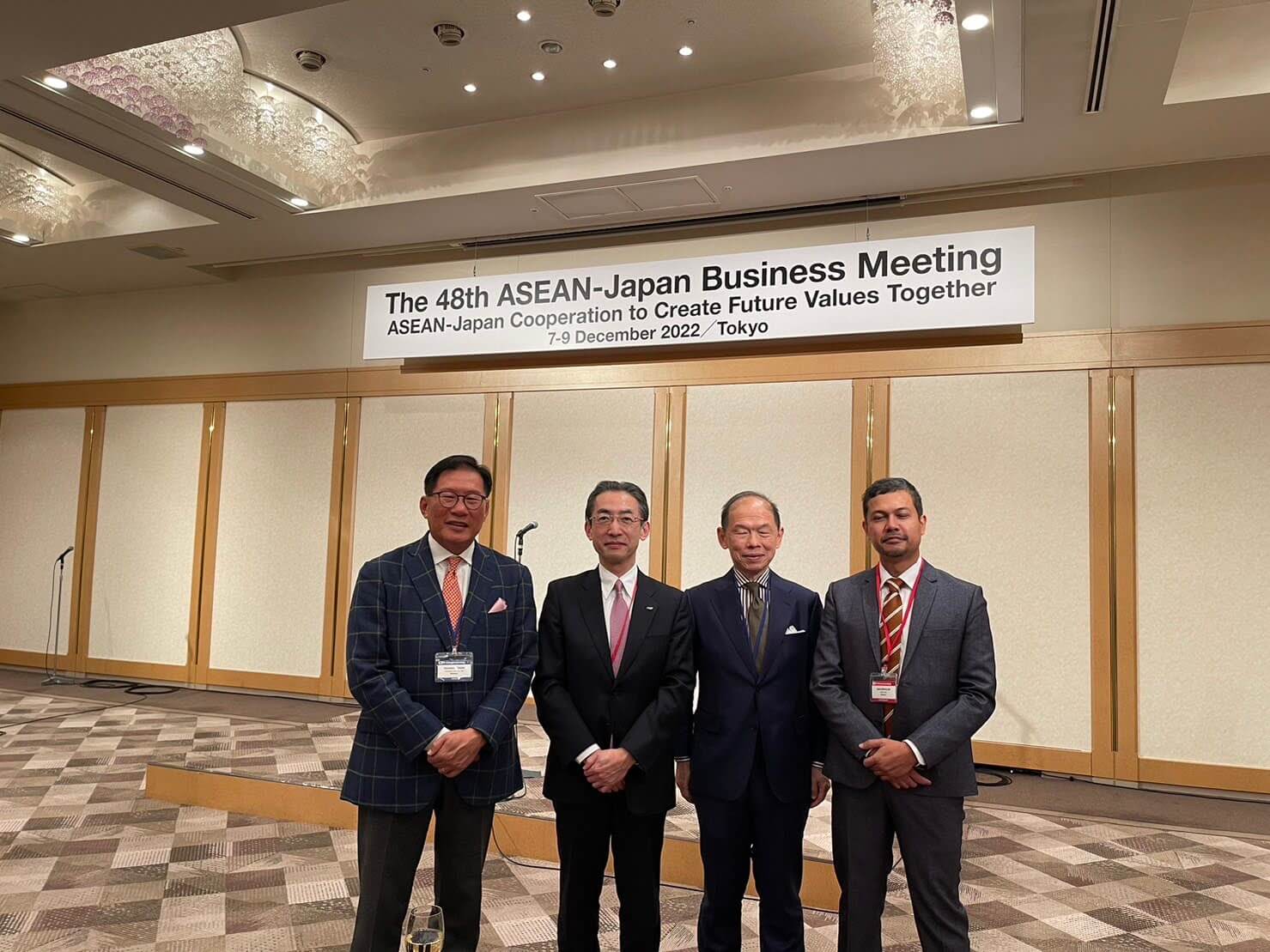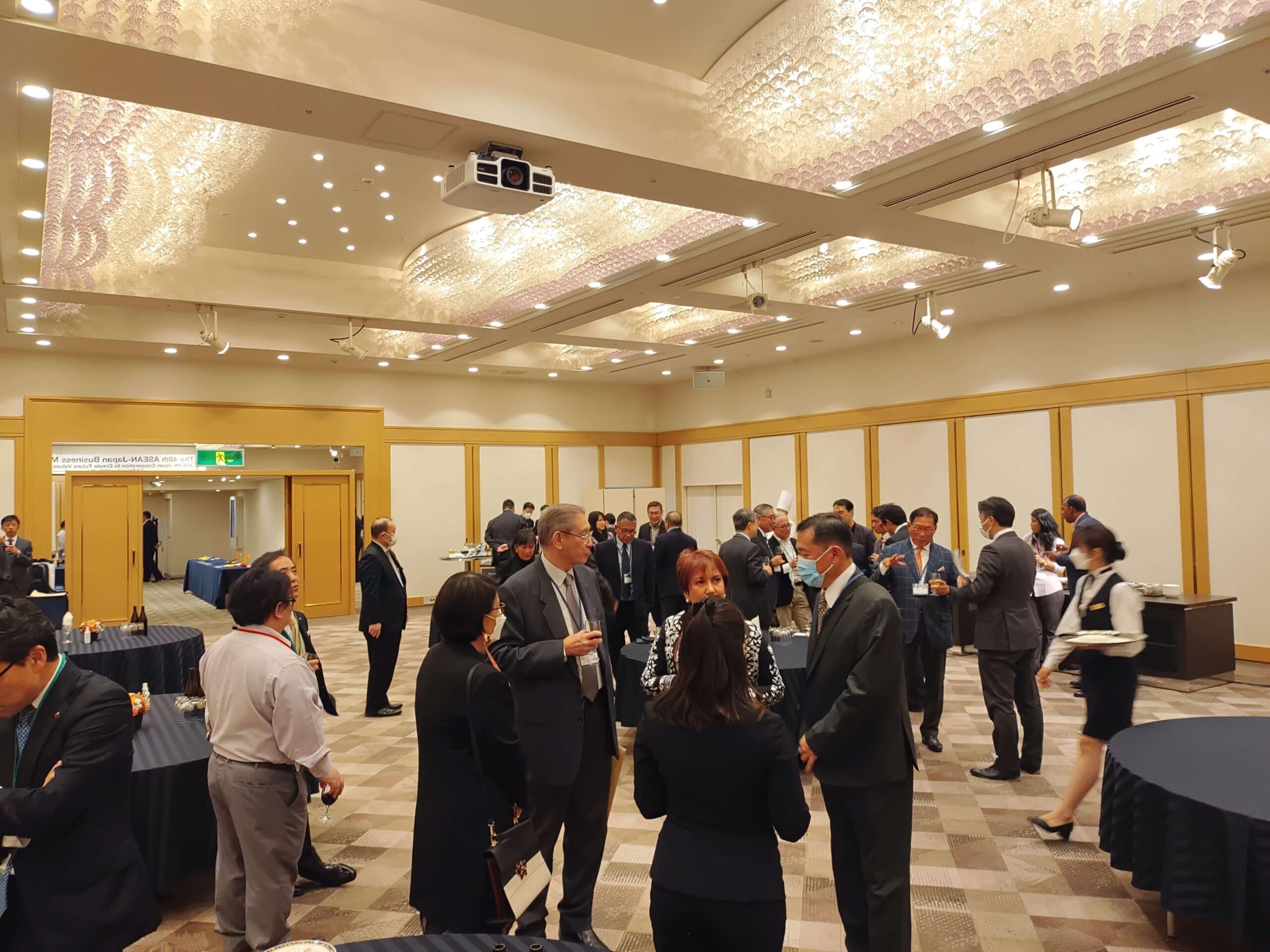 The Welcome Reception gives a chance for in-depth discussion between the panelists, foreign delegates, and the hosts before we start the panel discussions and presentations the next day.
Day 2: Panel Discussions, Presentations, and Dinner
Opening Ceremony
Day 2 started with the Opening Ceremony, with welcome remarks from Mr. Kengo SAKURADA representing Keizai Doyukai, with guest remarks from the Government of Japan and ASEAN.
The Keynote address was given by Mr. Masatsugu ASAKAWA, the President of the Asian Development Bank. The Opening Ceremony was finalized by Mr. Yuji HIRAKO the Chairman of the 48th AJBM.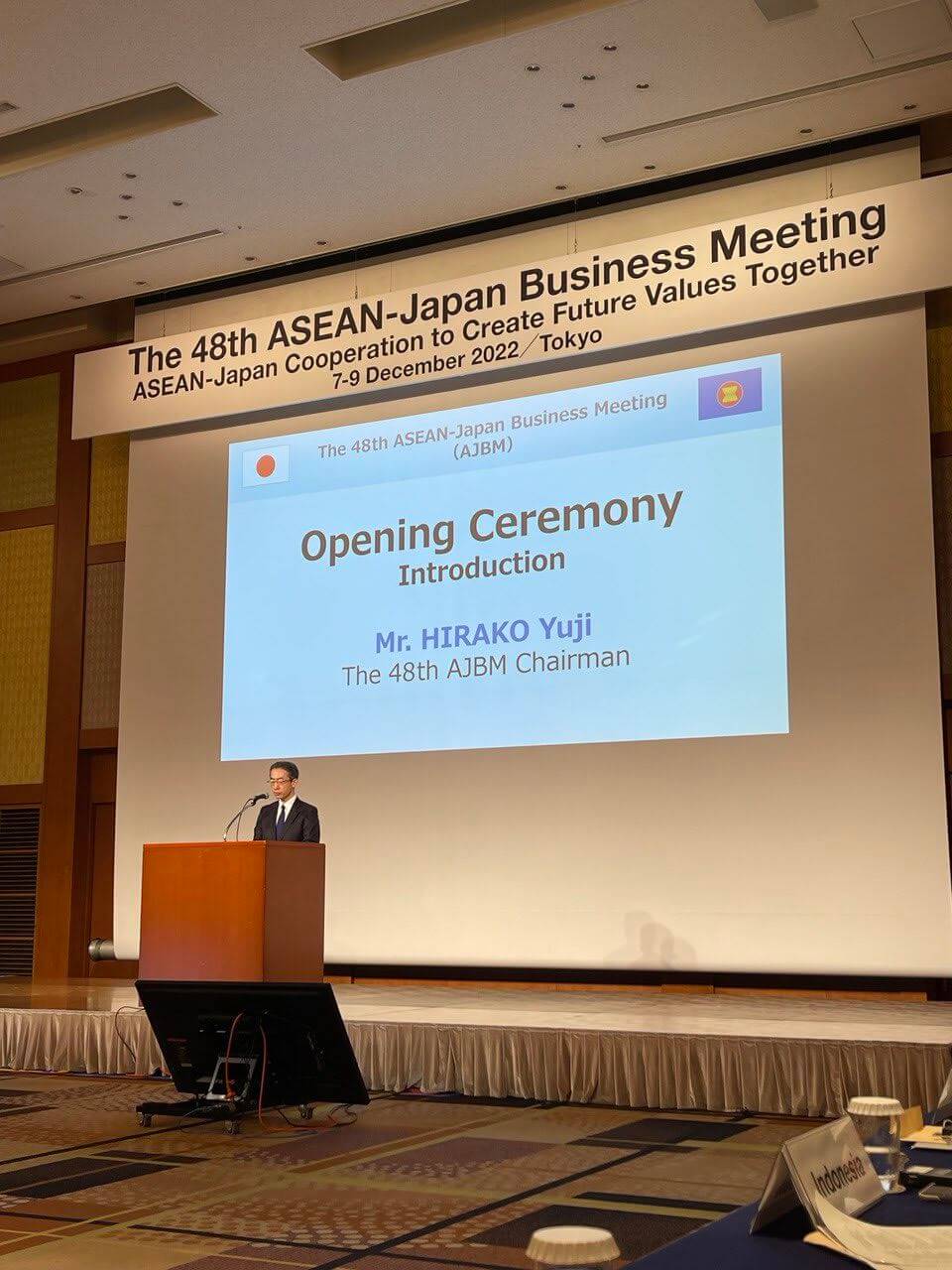 Panel Discussion: ASEAN-Japan Cooperation for the Realization of a Sustainable Society
After a short coffee break, we continued with our first-panel discussion for the day.
This panel was facilitated by Prof. YAMAMOTO Yasumasa of Kyoto University with the panelists being Mr. Ragu SAMPASIVAM, from The East Coast Economic Region Development Councill (Malaysia), Dr. Thanong BIDAYA of the TTW Public Company (Thailand), Mr. Ngurah SWAJAYA, Special Staff to the Foreign Minister (Indonesia) and Mr. MASHITA Naoaki of Keizai Doyukai / V-Cube (Japan).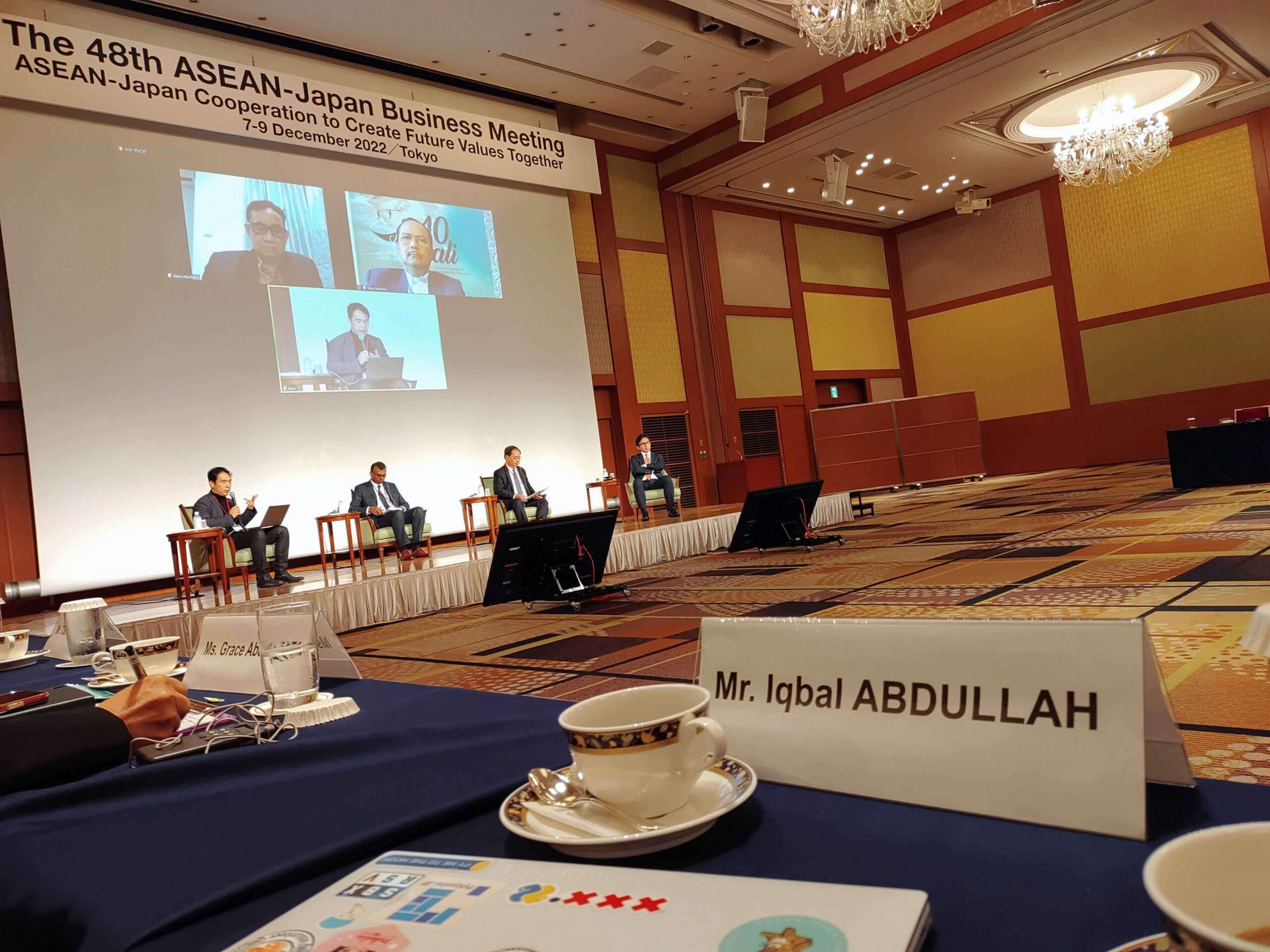 The discussion centered on how to create a sustainable society and business while considering the current conditions of the market within Japan and ASEAN. The panel agrees that the disruption brought by Artificial Intelligence (AI) as shown by ChatGPT has created a huge shock throughout our entire business ecosystem, and we need to adapt to this new world.
But for us to create the change that we need, Japanese companies especially need to target the global market from the start. We need to empower smaller companies through funding and other initiatives. Smaller companies have little inertia compared to big ones and they are easier to propagate the change that we need within society.
ASEAN is the future, but most of ASEAN are consumers: They are consumers of tools such as LINE, Shopee, and other digital platforms pushed by the pandemic. But they can't move quickly enough to embrace digitalization and are at the same time being pressured by other competing companies from other countries within the ASEAN region. Japanese businesses need to invest and venture together with companies within the ASEAN region so that we can achieve mutual prosperity.
One thing that Prof. Yamamoto said during the panel discussion that put an impression on me was:
The time for discussion and debate is done, and so we now need to take concrete action.
And that was it. It's time for us who are in leadership roles in our respective industries to take bold action and commit to the things we've been discussing and debating all along.
Lunch Session/ASEAN – Japan Startups Panel
After the first panel discussion of the day, we adjourned to an adjoining hall for lunch. We were assigned seats depending on our affiliations so that we can have better mingle around with the other delegates and attendees. I was seated with the moderator of my panel, Mr. Masahiko HONMA of the Incubate Fund.
I was the only panelist that was physically present at the venue. Other panelists were Mr. Ryan GONDOKUSUMO, CEO of Sribu (Indonesia), Dr. Wiwat WONGWARAWIPAT, Chairman of Instep Group (Thailand) and Mr. Kevin NGUYEN, CEO of JobHopin (Vietnam).
I presented our company and product AI contents generator – Kafkai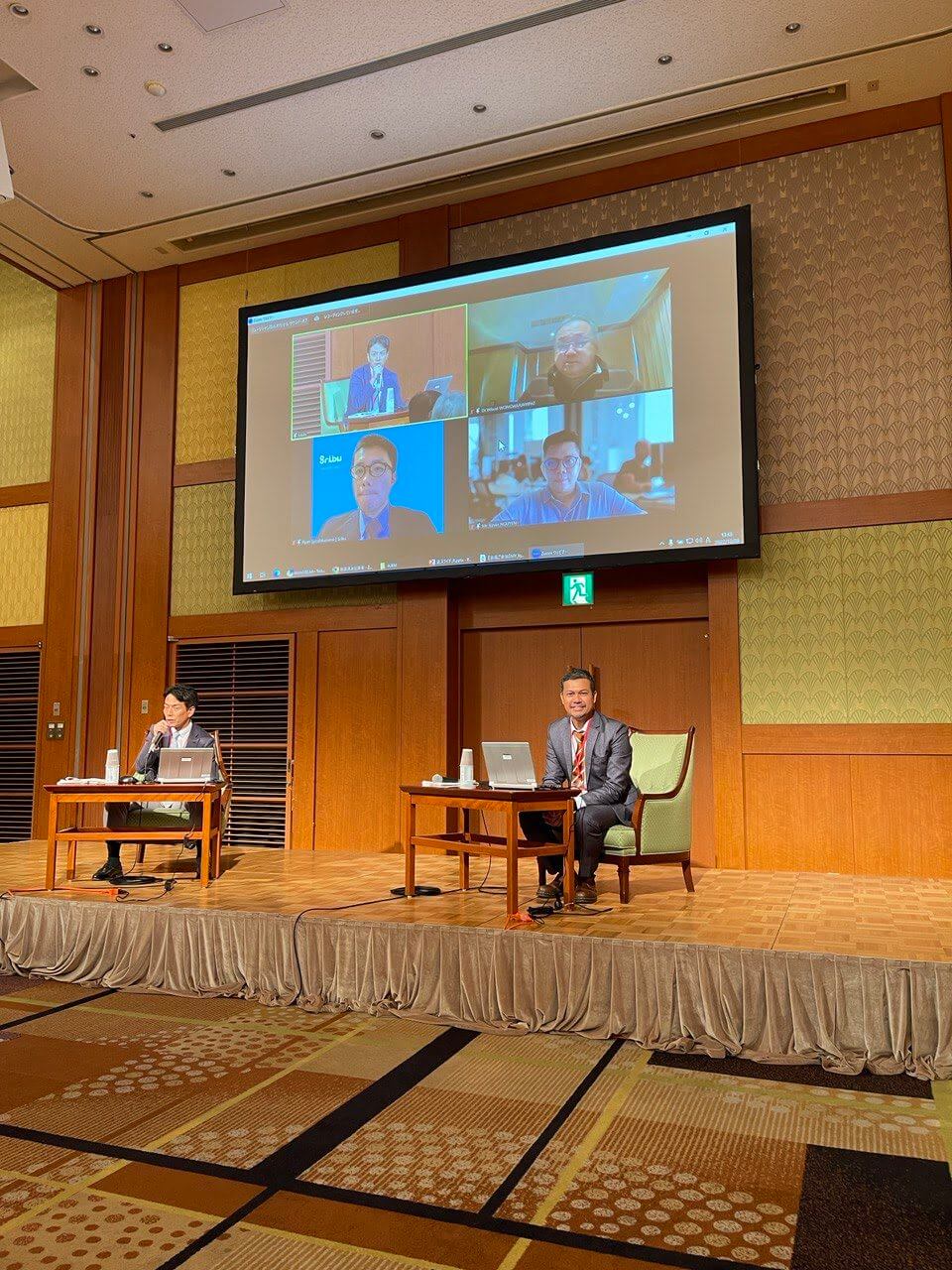 Panel Discussion: ASEAN-Japan Cooperation for Building a Human Resources Value Chain
This panel was facilitated by Prof. ICHIJO Kazuo of IMD with the panelists being Ms. Grace ABELLA-ZATA, from Corporate Executive Search (Philippines), Ms. Su-Yen WONG, Independent Director and Chairperson of the Singapore Institute of Directors (Singapore), Ms. Mai Hồng NGOC of the Vietnam Chamber of Commerce & Industry (Vietnam) and Mr. TSUTSUMI Hiroyuki, from Keizai Doyukai / Fujitsu (Japan).
At the start of the panel discussion, Prof. Ichijo posed the question:
Japan needs people to work in industries such as hospitality and medicine. But there are disadvantages because other countries offer higher salaries and do not need Japanese to work. How do we build a better value chain?
This question set the pace and the discussion that we had for the panel discussion.
First and foremost, labor is not a commodity and shouldn't be treated as such. Talent can be recruited in one country, trained in another, and continue up the value chain in a different country.
In light of this, we need to rethink how we think of "work". Labor is not a commodity, and it will grow, so we need to allow our workforce to re-adapt and re-skill our workforce. Furthermore, from the perspective of an aging population like Japan and some parts of ASEAN, this is an opportunity for inclusiveness and diversity, by welcoming older persons to still contribute within the workforce through readapting and re-skilling.
Language skills are important in this age of globalization. An example is how Japanese companies successfully trained their workforce in Vietnam. This is possible if the board level in companies regards talent as a strategic issue, similar to how they look at financial and legal issues within their business. Talent is not something that should be 100% delegated to the Human Resources department.
An interesting example of how we can work together for mutual benefit in building our regional workforce was brought up by Ms. Abella-Zata:
Japan wants skilled talents while on the other hand, while the Philippines have an oversupply of unskilled talents. Referring to what she calls the Lufthansa Technique, it is a model where Lufthansa trains unskilled workers in their facilities, and after 2 years they will help assign them to jobs outside of the Philippines to other Lufthansa offices around the world. This is a win-win situation for the talent, the company, and the community as a whole.
In the end, our final destination is not to "create a value chain" but in fact beyond that: Such as building a better society or a more sustainable society.
Dinner
At the end of all the panel sessions, we had dinner while being entertained by a quartet from ANA. They are part of a larger orchestra group within ANA (colloquially referred to as Hane-Oke), which consists of active cabin, ground, and engineering crew members. Hane-Oke was formed after the devastating 2011 earthquake to give hope through music to the people of Japan.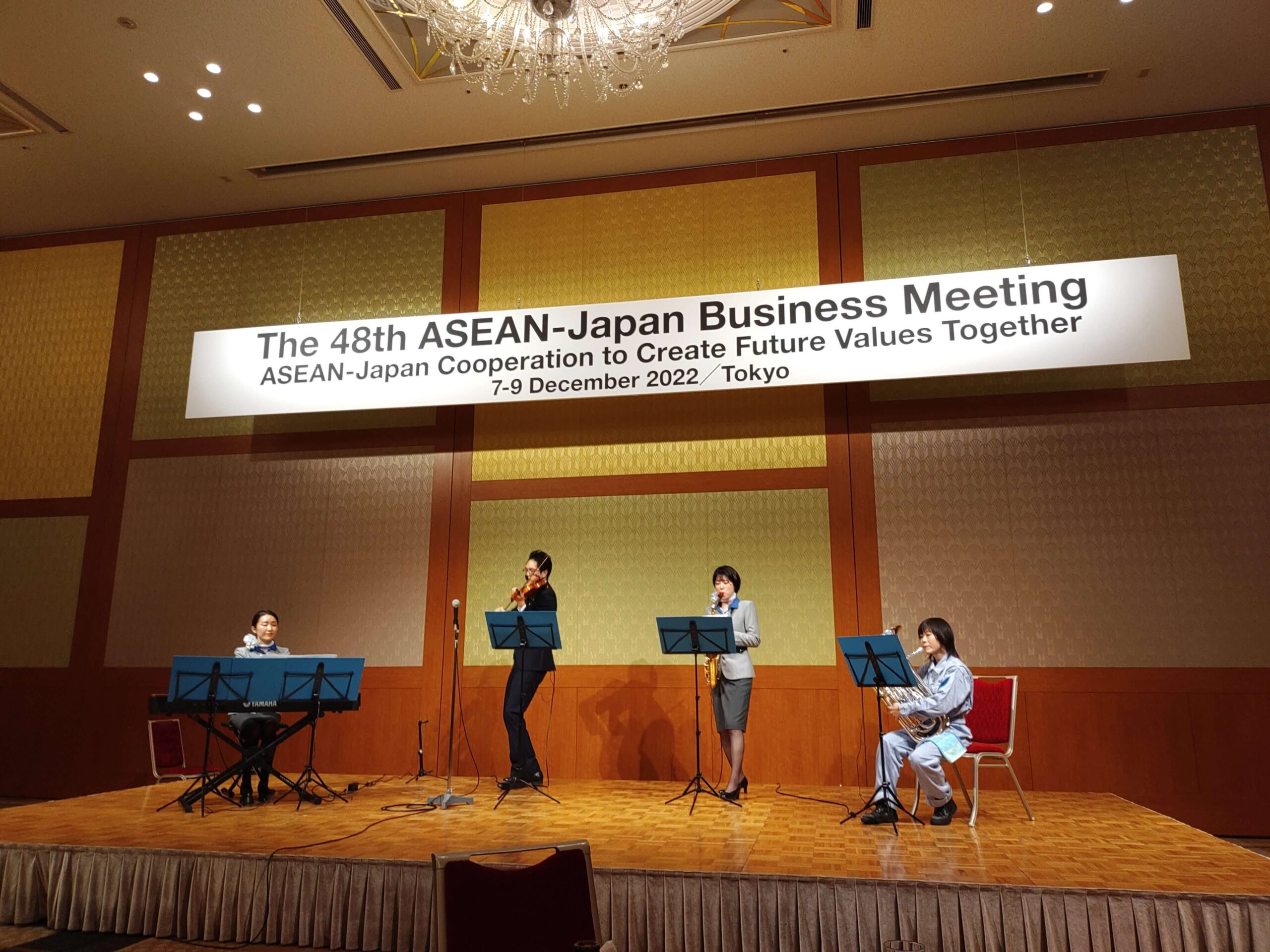 Day 3: Visit ANA Blue Base
On the final day of the AJBM, the delegates had the opportunity to visit either ANA's training center, ANA Blue Base, or SOMPO's Future Care Lab. I opted for ANA.
ANA Blue Base is the culmination of their efforts to streamline the training of their staff. Previously, everything was done at different sites, and new hires needed to move about to do their different types of training. ANA Blue Base can have a few thousand staff at any one time to do all the training that they need.
We were shown the training facilities that they use for all their staff, from the cabin crew to the ground crew and the engineering crew. We also had the opportunity to go through resources that they also use to train their new hires: Resources such as explaining the ANA brand, and the different initiatives they are taking to make their business more eco-friendly and sustainable.
Unfortunately, we were not allowed to put the pictures we take up on the internet, so you'll need to visit ANA Blue Base for yourselves if you want to experience these. Mr. Hirako was kind enough to spend time with us as we walked around the facility.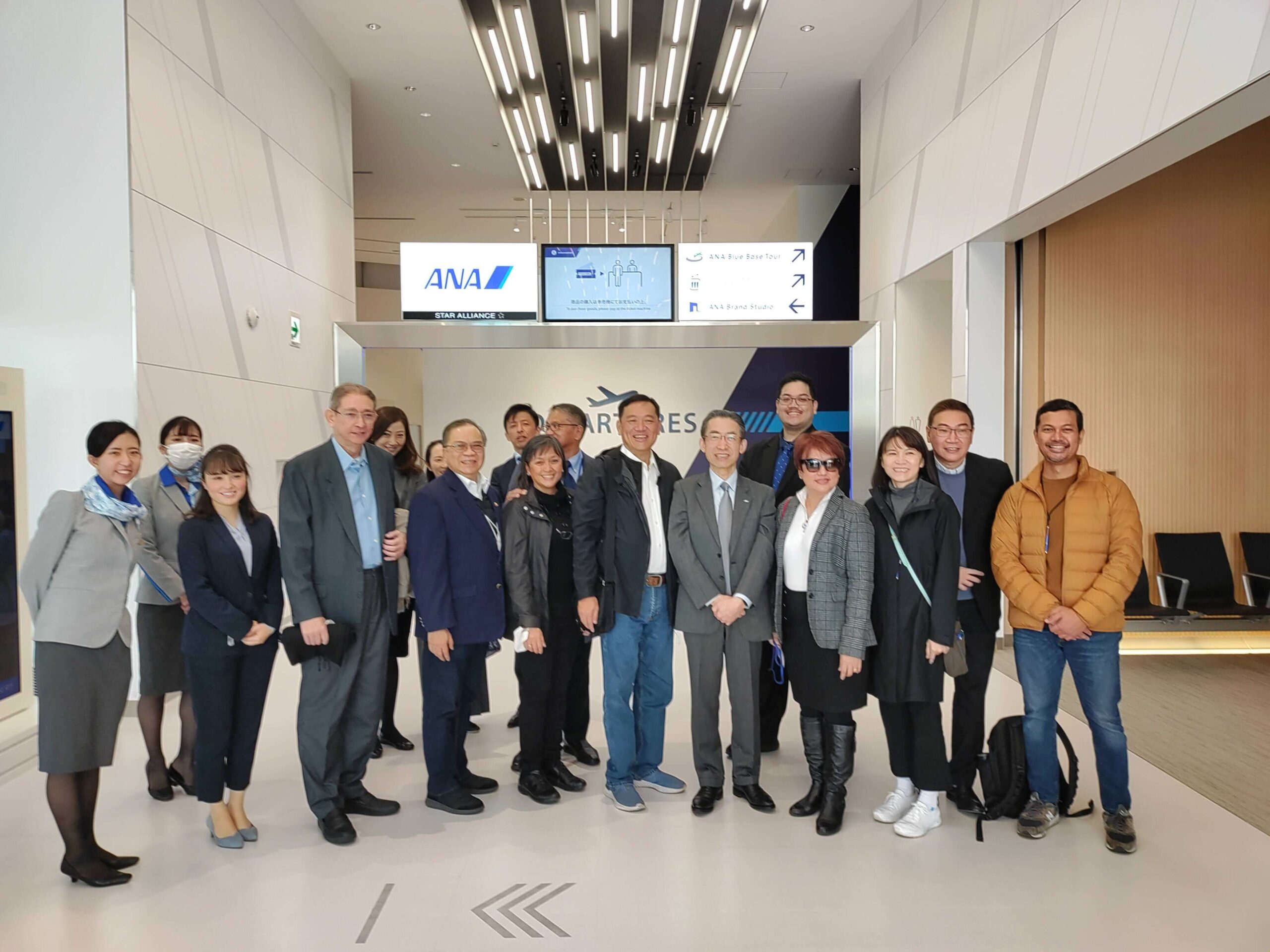 Wrapping up
As always, this edition of AJBM has been a fruitful 3 days of learning new things, affirming previous understandings, and strengthening relations. I am always grateful to have the opportunity to listen to and learn from my fellow much more experienced business people and entrepreneurs from ASEAN and Japan.
For my participation as a panelist during the Startup Pitch, I received a thank you letter from Keizai Doyukai: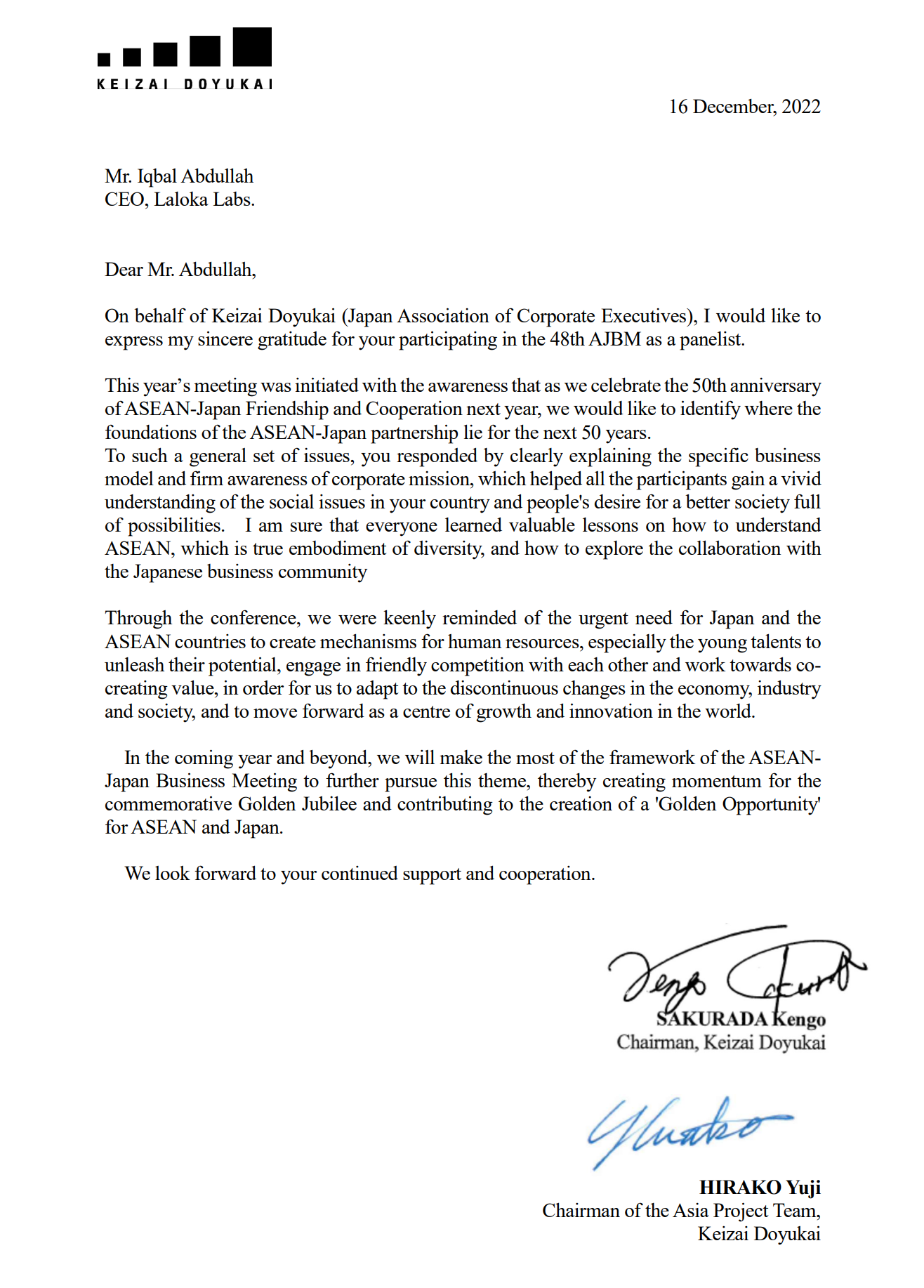 Thank you to Keizai Doyukai for hosting us, and also to MAJECA for supporting LaLoka Labs for the Startup Pitch Panel.