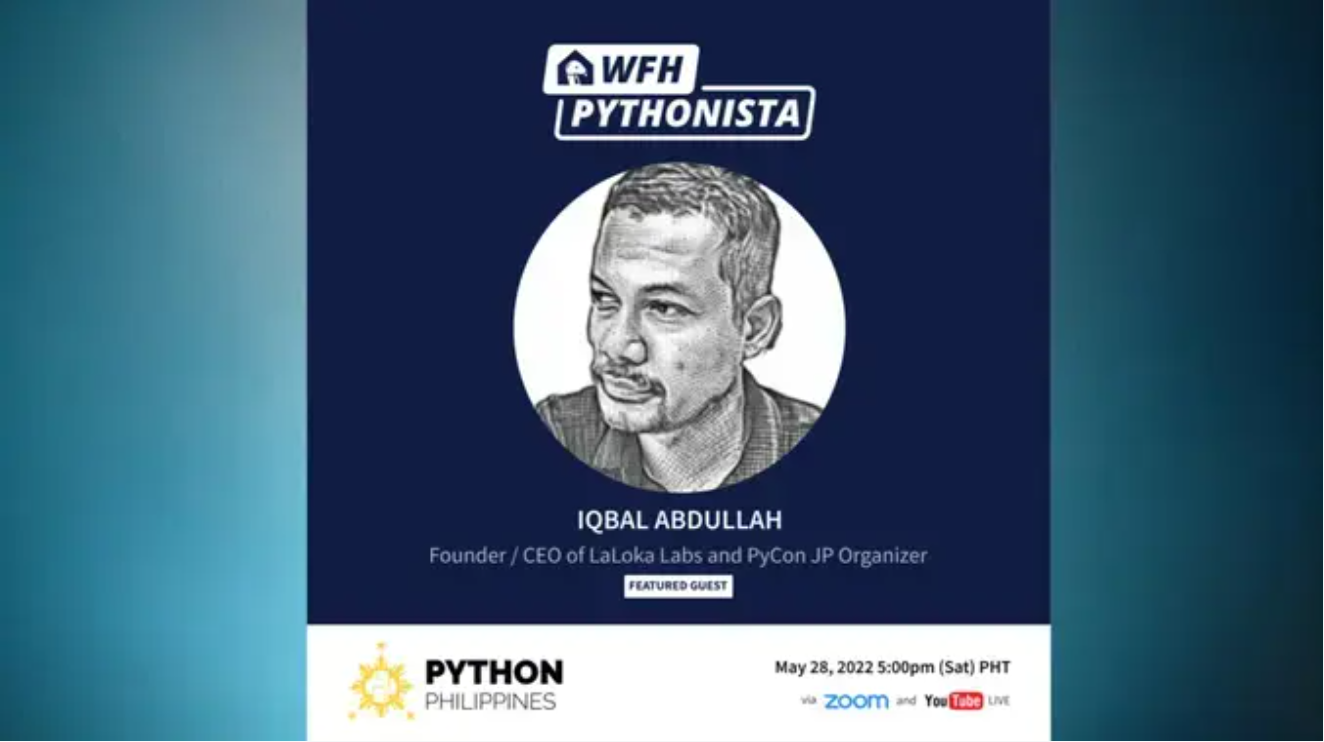 WFH Pythonista with Iqbal Abdullah
Details
WFH Pythonista Ep#14: a webinar talk show with Iqbal Abdullah, Founder / CEO of LaLoka Labs and a PyCon JP organizer
Have you ever wondered what a typical day looks like for a Founder / CEO of a software company and a PyCon JP Organizer? 🙂
WHAT:
"Pythonistas and their craft, at home and beyond."
WFH Pythonista is a monthly webinar talk show series where we interview Pythonistas representing various roles and industries to give people in the community an insight into what a typical workday looks like.
We also showcase how Pythonistas think outside the box while being inside the comforts of their own homes or digital nomad setup.
In this episode, we're interviewing Iqbal Abdullah, Founder / CEO of a software development company and a PyCon JP organizer.
Iqbal has been a resident of Japan for the past 20 years. He's the founder and CEO of LaLoka Labs. His previous company, Xoxzo was acquired in Sept 2021 and he still currently serves as the COO.
His Python journey started in 2002 with ver. 1.5.2 when he started working at Yahoo! Japan. He co-founded PyCon JP and PyCon MY, helps manage PyCon APAC, and is also involved with the Trademarks Working Group (WG) and the Diversity and Inclusion WG of the Python Software Foundation (PSF).
Outside of work, he likes to run, travel, watch movies, write stuff, spend time with friends and discuss politics and economics and read books. He can communicate in 3 languages fluently and is basic in one.
Iqbal has been to Manila once to attend PyCon PH, was invited on stage for a panel discussion, and considers Matt and Mickey (of PythonPH) his good friends and fellow compatriots within the community.
WHEN: May 28, 2022 (Saturday) 5:00pm – 6:00pm PHT
WHERE: Online via Zoom and broadcasted on YouTube.
Hosted by: Matt Lebrun and Micaela Reyes (PythonPH Trustees)
MORE DETAILS