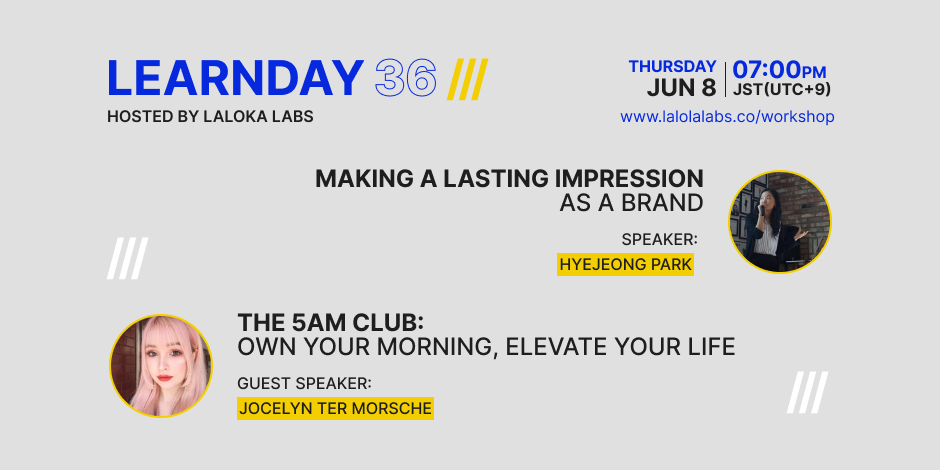 LearnDay@LaLoka Labs #36
An "open-to-the-public" learning event. Free topics decided by the speakers beforehand on anything from history, and arts to technology.
About this event
The topic for this LearnDay@LaLoka Labs will be
Making a lasting impression as a brand
by Hyejeong Park. Product Manager, LaLoka Labs.
The 5 AM Club: own your morning, elevate your life
by Aiko Yokoyama. Marketing Associate, Xoxzo.
We'll have two presenters who will each have 20 minutes for their presentation including questions.
Location
The seminar will be done online via Google Meet or Zoom. After registration, you will be sent a link to join via email before the event.
Please note: We will record and publish this seminar on our Youtube Channel. By joining us, you'll be consenting to be recorded.
If you're new to LearnDay@LaLoka Labs, please continue reading:
The Background
We live in a fast and ever-changing world, where the only constant is change. It is beyond one person to keep up with all the changes, but continue to learn we must.
Learning here does not mean necessarily something specific to our line of work or everyday tasks: On the contrary, ideally, it should be something beyond that. To be the best at what we do, we need to be innovative and creative: Thinking of new ways of doing things, and learning when to discard proven ways to try something new which might work better. In order for us to be creative, our minds require stimulation and new perspectives, that will help connect the many different dots together and create new lines.
Learning new things usually will include reading material, such as books or blog posts we find on the internet, or even listening to TED videos. But unfortunately, due to the demands of modern living, we seldom find enough motivation to create time and effort to do so.
About LearnDay@LaLoka Labs
LearnDay is a monthly online seminar initiated by LaLoka Labs. We will have speakers from the team or guest speakers who will talk for 20 minutes each, on a subject of their choosing. The aim is to:
* Give us a reason to do some meaningful reading (of those piles of books or links but never gotten to read) to improve our knowledge and share with others* For the technical team, it can be a place for them to also reinforce their technical knowledge.* For everyone on the team,** Churn the material that we read, understand it, and improve our skills at communicating what we understand** It can be an opportunity for us to learn and be stimulated by new knowledge or techniques introduced by our peers, to debate and ask questions and also contribute to the public with what we've learned.* For the public, it can be an opportunity to also learn something new, and get to know who and what drives LaLoka Labs.* Material can be any non-fictional subject: Technology, economy, history, arts, or politics. Anything that the speaker finds attractive.
Due to the short duration we have set for speakers, these sessions are not meant to be in-depth discussions or explanations of the presented material, but more of a summary high-level introduction of the materials.
Although it will be a big plus if the speakers become experts on the topics they present, the main aim of LearnDay is giving opportunity for everyone to practice communication by sharing a topic of interest with everyone else, and for everyone else to be introduced to new things.
These seminars will be done online, and the public is welcome to join in and contribute to the discussion or knowledge sharing.
FAQs
How can I contact the organizer with any questions?
You can contact us at hello@lalokalabs.co
---
Registration