PyCon US 2023 was held in the Salt Palace Convention Center, Salt Lake City, Utah from April 19 to April 27, 2023. The main talks were from April 20 to April 23, with paid tutorials and sponsored talks done during the first half of the conference, while sprints on the later half from April 24.
We at LaLoka Labs are close to the Python community, being community organizers and speakers when we can, so attending PyCon US where the core of the Python community comes together is meaningful to us.
The talks at PyCons are great, but for particular PyCon US is special: I have the D&I Panel to speak at, I have the PyCon Asia Community to help out with, and I have all the friends which whom I have been communicating online and need to meet after a 3-year pandemic.
The Diversity and Inclusion (D&I) Panel
I was invited to be one of the panelists for the D&I Workgroup Panel on Saturday. We had around 20 minutes to explain to attendees of PyCon US 2023 what the D&I WG is, why diversity and inclusion are important to our community, and what we're doing about it.
Marlene, Débora, Georgi and myself were on the panel.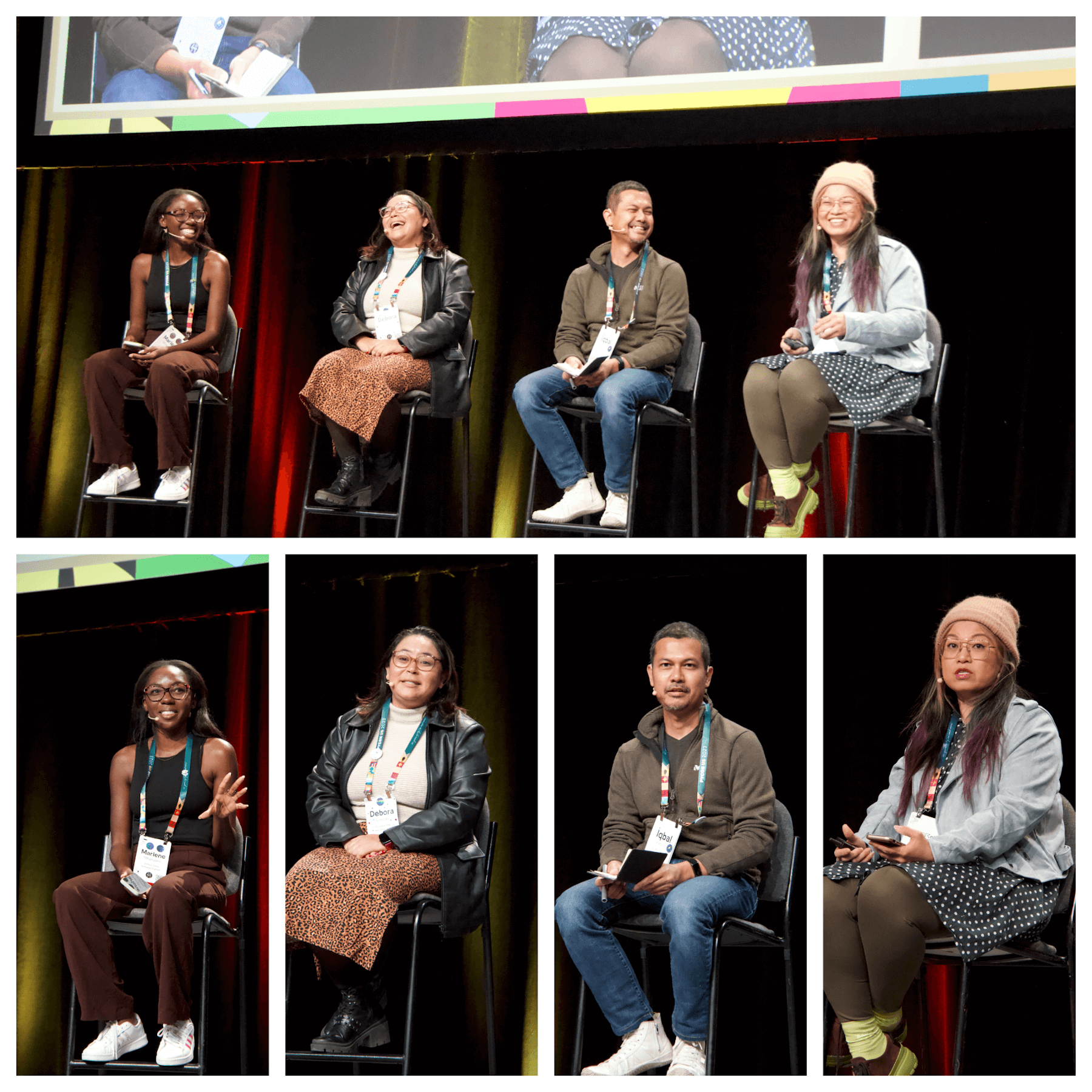 Note: Thank you to Manabu Terada for the wonderful pictures
Marlene lead the discussion and posed questions to each of us on how we can participate in the PSF, how having an elected board from a more diverse group of people is important, and what diversity and inclusion mean for different groups within the community.
I was helping out at the PSF booth on the morning of Friday and had a conversation with Laura from Mexico and Mariano from Argentina and we ended up talking about diversity within our community. I asked Laura what diversity and inclusion mean to her, and she said it's about having the opportunity to be listened to and accounted for regardless of who you are.
I truly agree. Which is I think basically what it all boils down to.
The community needs more people from diverse backgrounds to be active and contribute their time and expertise. Georgi explained that there are many ways you can contribute within the community and not just by pushing PR to Python: Writing documentation, managing meetups, hosting conferences, and helping newcomers settle down.
Débora pointed out how important it is to have people represent you on the leadership level of our community. She has shown that if you don't care and try, nothing will change. Caring, participating, and wanting your voice heard creates a virtuous cycle that can be used as building blocks of a better and inclusive future.
We are only the best of us when the rest of us is here.
You can watch the video for the Panel here
The Python Asia Community
The PyCon US this year was special because we had a record number of attendees from our own Python Asia community (follow them on Mastodon and Twitter)
Trips to the US, being a far away place from where most of us live requires planning and is not something that can easily be done.
We had a booth to promote the various PyCons we have in the region and was run by the different community leaders and organizers within the region from HK, JP, KR, and PH. The JP community will be hosting the regional PyCon APAC in Oct 2023.
Thank you to Jannis and Loren from the PSF for coming to our booth to say "Hi!" to everyone.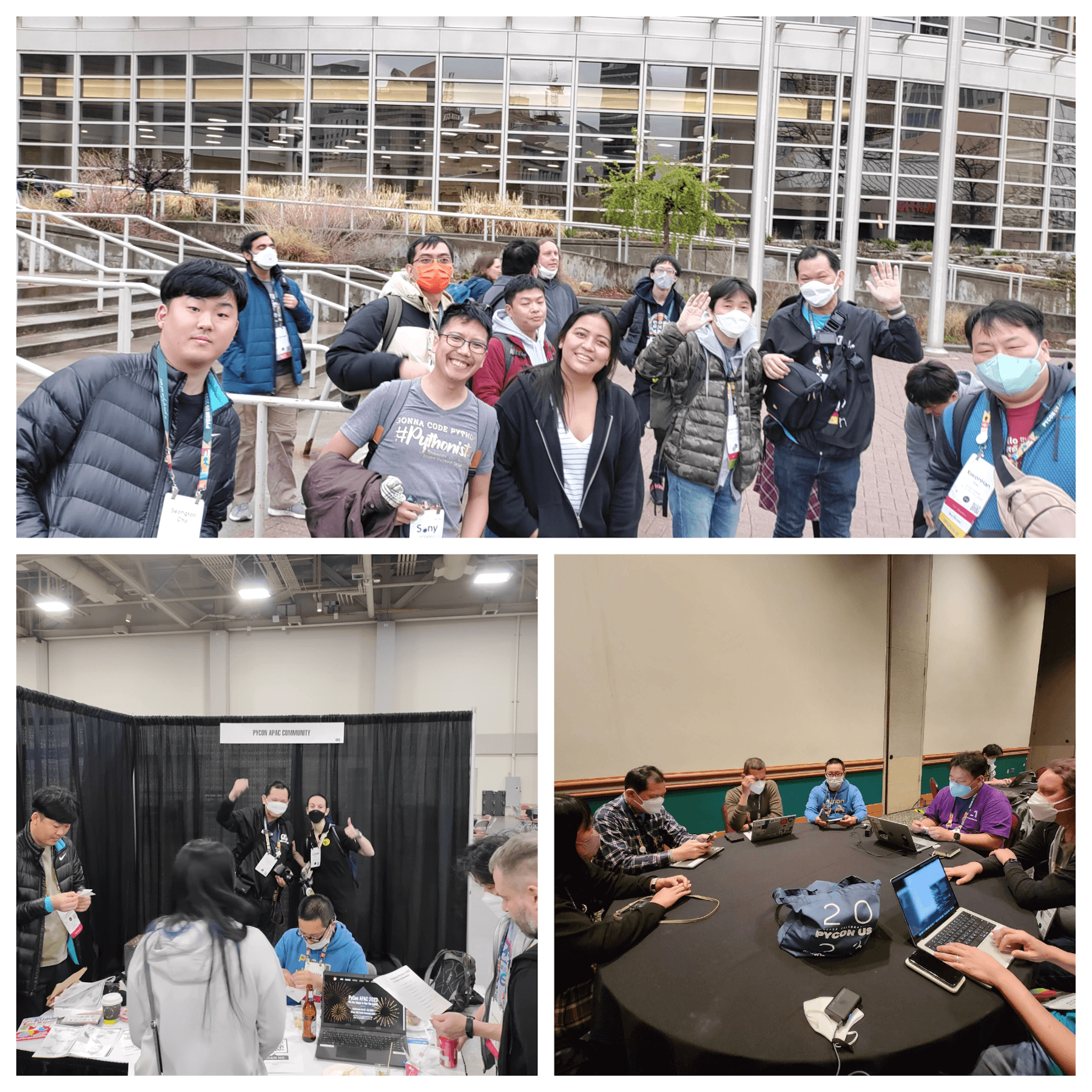 Conference Dinners
For every PyCon, one of the highlights is the dinners that we go to with the other attendees. Most of them are informal ones, where individuals of birds of a feather gather together over a meal to catch up and discuss their interests. These are where most of the bonding is done (other than being in sprints, of course)
Pre-conference D&I dinner
On Wednesday, we had a pre-conference dinner attended by our friends who are interested in or working towards a more diverse and inclusive community. We had friends coming in from as far as Zimbabwe and Japan. Thank you Marlene for managing this.
Python Asia community dinner
With the record number of attendees from our Python Asia community, we also had dinner together at a foodcourt close to the conference on Friday night.
PyLadies Auction Dinner
Perhaps the highlight of the conference. The PyLadies Auction Dinner is a traditional PyCon event that aims to raise money to support the PyLadies community.
This was my first PyLadies Auction Dinner, and I had a lot of fun witnessing the good-natured rivalry among our folks as they try to outbid each other. I was tempted to bid for either the leather Beeware satchel or the Python makeup pouch, but I still have 3 more weeks of travel, and luggage space is very limited.
The event targeted to raise USD30,000 and manage to hit well below their mark at USD36,669.69.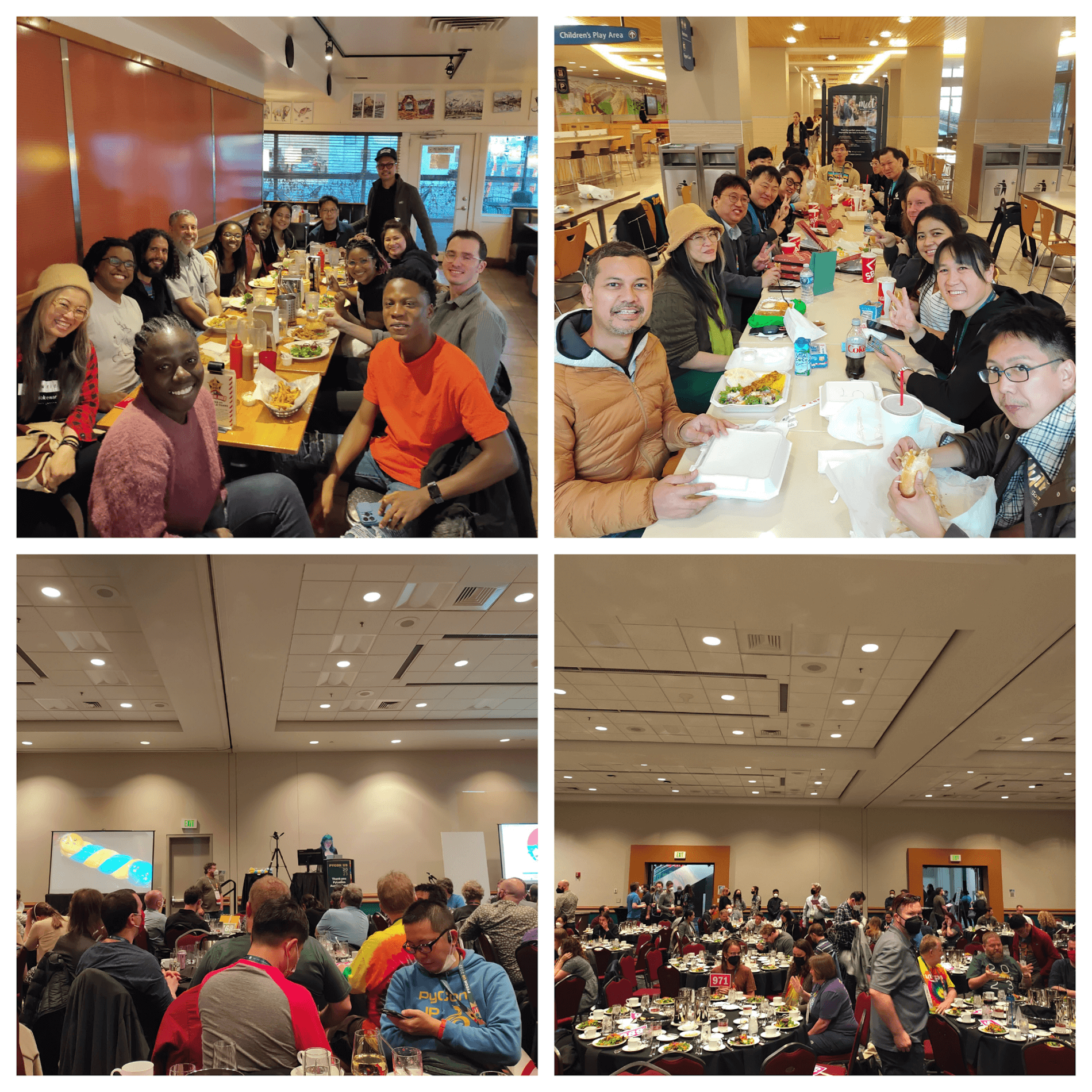 PSF Members Lunch
At every PyCon US, there will be a by-registration PSF Members Lunch, hosted by the PSF as an opportunity for the members of the PSF to learn more about PSF's initiatives and financial status for the past year.
Thomas (The Chair of the Board of Directors of the PSF), Deb (The Executive Director of the PSF), and Phyllis (Controller of the PSF) introduced us to their plans and initiatives for the past and coming year, and also presented to us the financial situation of the PSF.
In a nutshell, the PSF is heading in a good direction financially, after a scary 2020 due to the cancellation of PyCon US that year.
As a PSF member, I want to take this opportunity to give thanks and a shoutout to Ewa who has done an outstanding job as our previous Executive Director, without which it's unthinkable where we will be today.
I also want to point out the fact that the PSF gives out grants to Python events all over the world. In 2022, it gave out over USD200,000 to different communities and events to promote Python. The biggest portion of those grants go to Europe (32%) and North America (24%). On the other hand, Africa is only receiving 16% of the grants, while the region with the biggest growth of Python users and developers (Asia and Eurasia) is only getting 2% of those grants. We need to fix this by having more awareness programs on the work of the PSF and the availability of these grants, and most of all to make our community members understand that it's OK to ask for money from the PSF.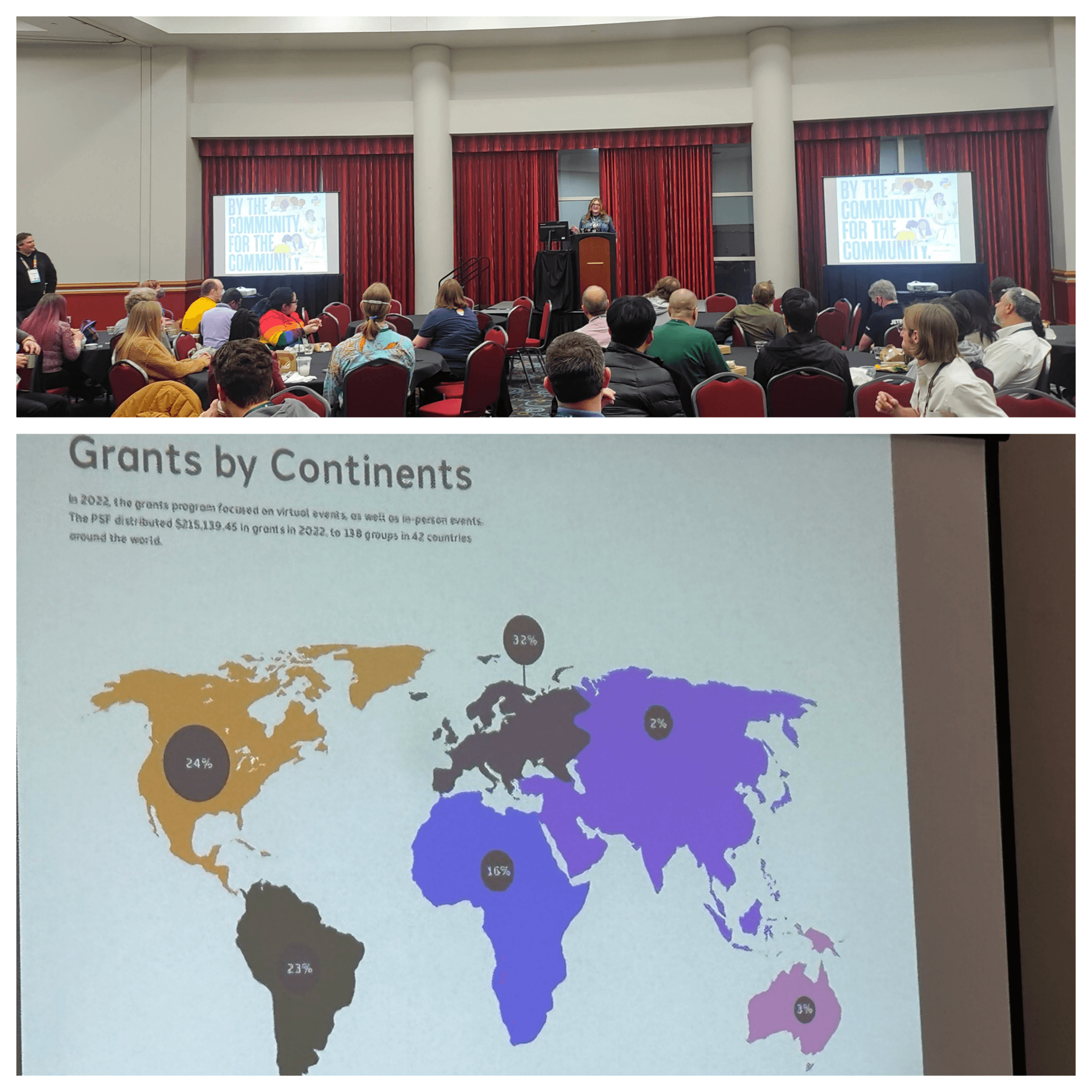 The Talks
Keynote: Ned Batchelder
Ned Batchelder's keynote was titled "How To Talk To People" and he introduced what he calls "The People API User's Guide"
He emphasized a point that most of us who work in technology day in and day out tend to forget (or take for granted): That we deal with people.
People are important, and our interactions with people are important. It doesn't matter if we can build the greatest programs but we can't work with clients and the people around you.
TLDR; Say yes, be humble, and use more words when we interact with the people around us.
Ned's keynote was meaningful, entertaining, and easy to understand. Make sure to catch the video when it's out.
You can watch Ned's keynote on YouTube here
Keynote: Margaret Mitchell
Margaret Mitchell started her keynote by telling us about her journey as a woman in tech and data science in particular. It was a difficult path (and I believe remains so) in the field of machine learning as a woman, compared to her male colleagues.
She also shared with us her experience of working with the tech for the blind, and the classic trap we always fall through when we're building solutions: We don't talk enough to the people who we think might need those solutions.
The next part of her talk was about the inherent biases within the data that we collect and use as the basis of our AI systems. These biases are there because we humans produce that data, and we humans are inherently biased.
She shared with us ways how we can fix the biases within the data. All we have to do is to take the first step of not ignoring it and just look.
Margaret's keynote was full of insights on biases within the industry, and even among us when we carry out our work and my summary here doesn't do justice. Be sure to catch the video when it's out.
Margaret's keynote is also available on YouTube here
Other talks
There were a bunch of talks that I did manage to go to, such as
The talks were a healthy mix of topics on machine learning, ops, how Python is affecting the community, and Python on the web such as PyScript. I wished I had time to listen to the talks about stories on how Python is affecting the community like Using Python to Help the Unhoused or Pyscript for Education
There was also a track for Charlas, a Spanish language track. I have the impression that there were more topics on community building in the Charlas track.
All of the videos for the talks are also available on YouTube
Wrapping it up
This is my second PyCon US, after Portland in 2016. I didn't know anyone then, and I still don't know everyone now, but I made more new friends and met old ones which we couldn't do for the past three years which made this an extra special PyCon.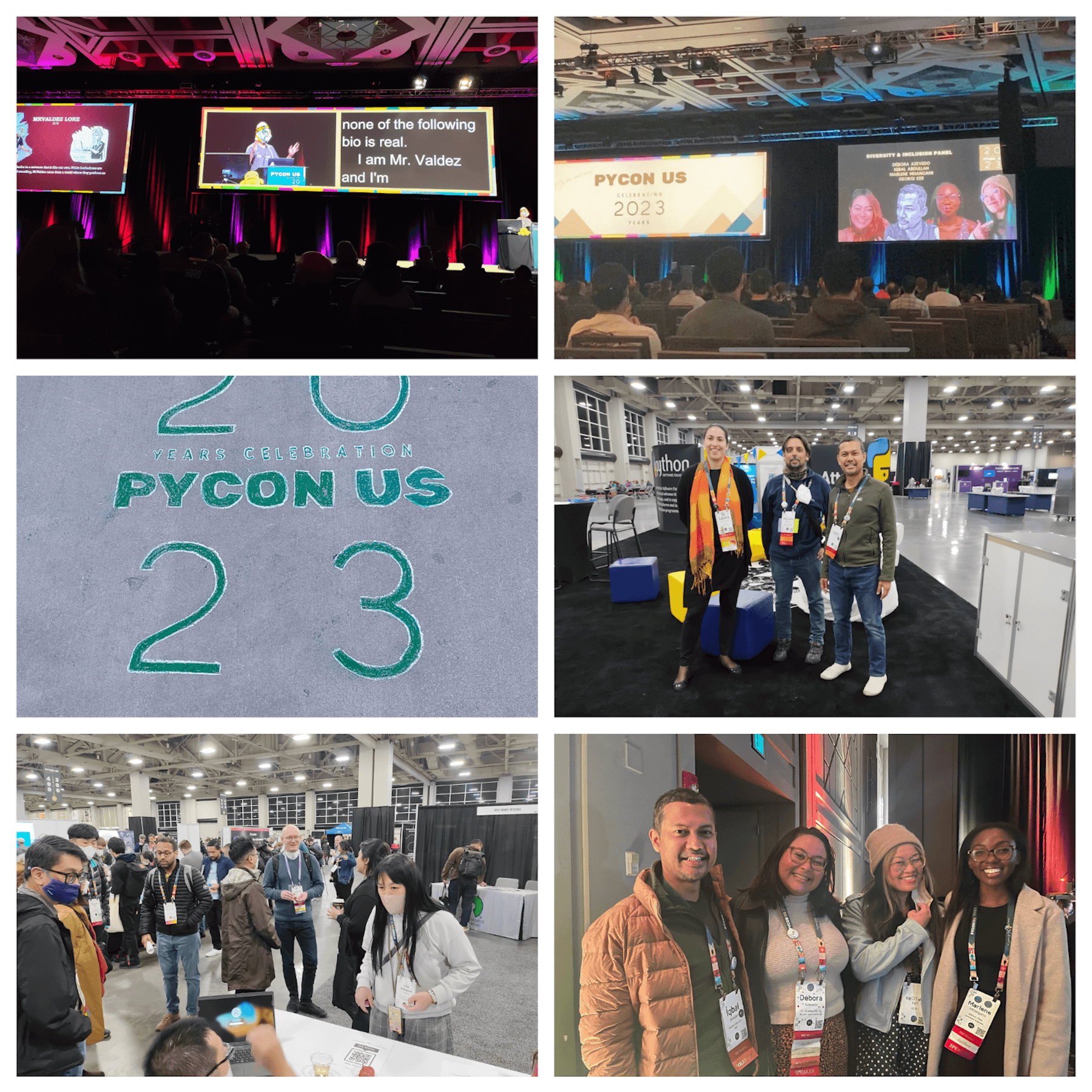 I also managed to finally meet some of the people I have only been interacting with online, and all of them greeted me with open arms. Due to the pandemic, there are many more ideas and thoughts which can only be communicated effectively face to face. PyCon US 2023 made it possible for me to do that. It was a refreshing, wonderful, and happy experience.
We need to create more opportunities for a much more diverse group of people from different parts of the world to be here. The fact is PyCon US still is the premier conference and a major point of convergence for our global Python community. If you want to effect change, you will need to be visible during PyCon US. It is far from ideal, but it is a fact at this point.
This is something we need to work on. To have a presence and visibility during PyCon US as a pre-requisite to doing more meaningful work within the community doesn't promote our overall diversity and it is far from inclusive. Let's change this and bring PyCon to our community.
Join your national and regional PyCons today and be part of that change.