Japan IT Week in Nagoya July 2022
This post is meant to be a guide for other folks who might plan to visit Nagoya for the next installation of Japan IT Week.
I attended the Japan IT Week Nagoya, which was held in Port Messe Nagoya from July 27th to July 29th 2022. I was given a free VIP ticket by the organizer, RX Japan Ltd and decided to see for myself the trade show scene in Nagoya and also the products which might be useful for us.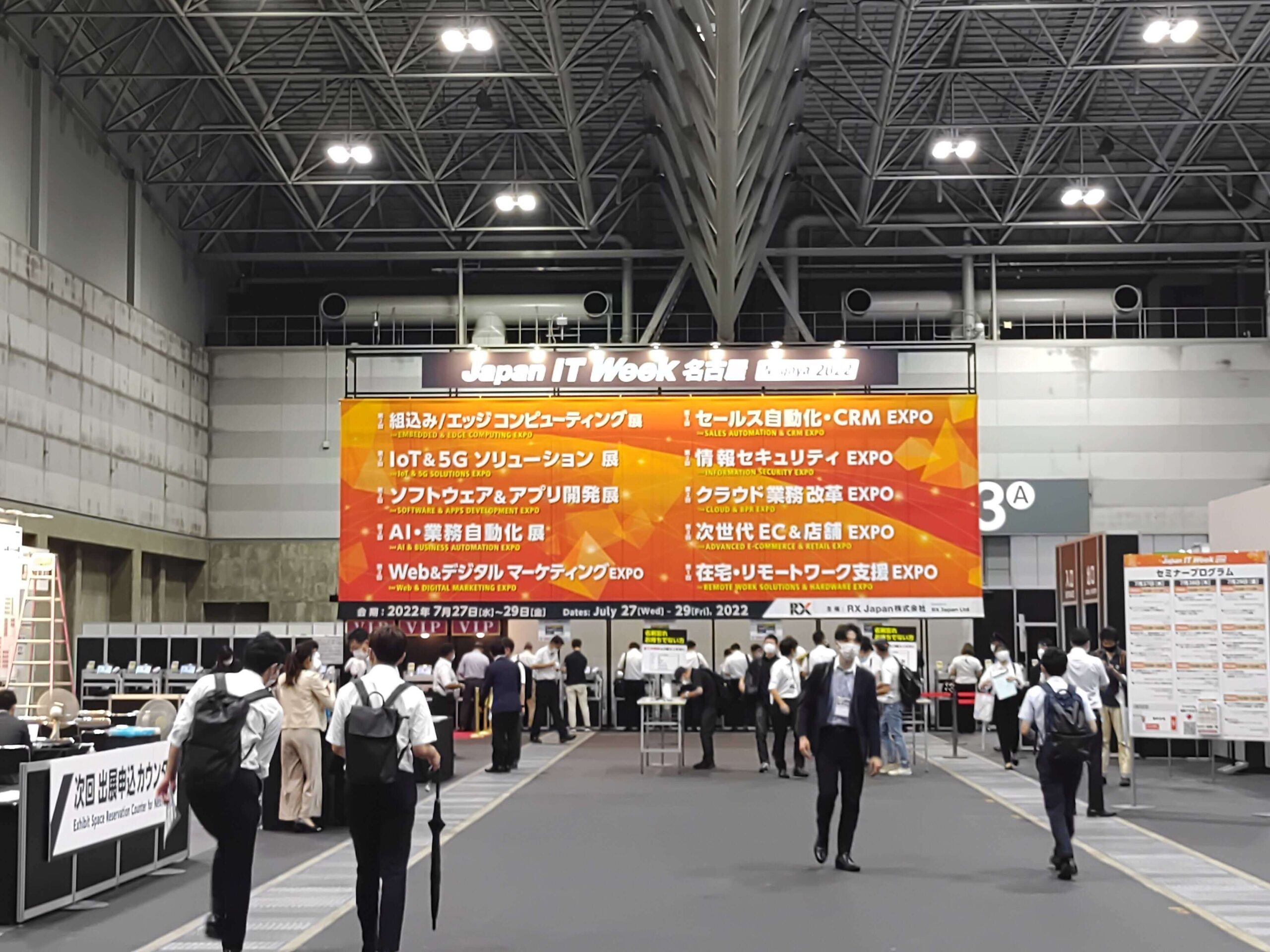 Initial impressions
This was my first time attending a trade show in Nagoya and it was a learning experience.
The nearest station was Kinjofuto on the Aonami line (あおなみ線の金城ふ頭駅) which is around 10 minutes walk from the main event hall. On a hot summer day, this will be a sweaty walk. I was staying near Nagoya station during the trade show, and it was a 30-minute train ride on the Aonami line from central Nagoya.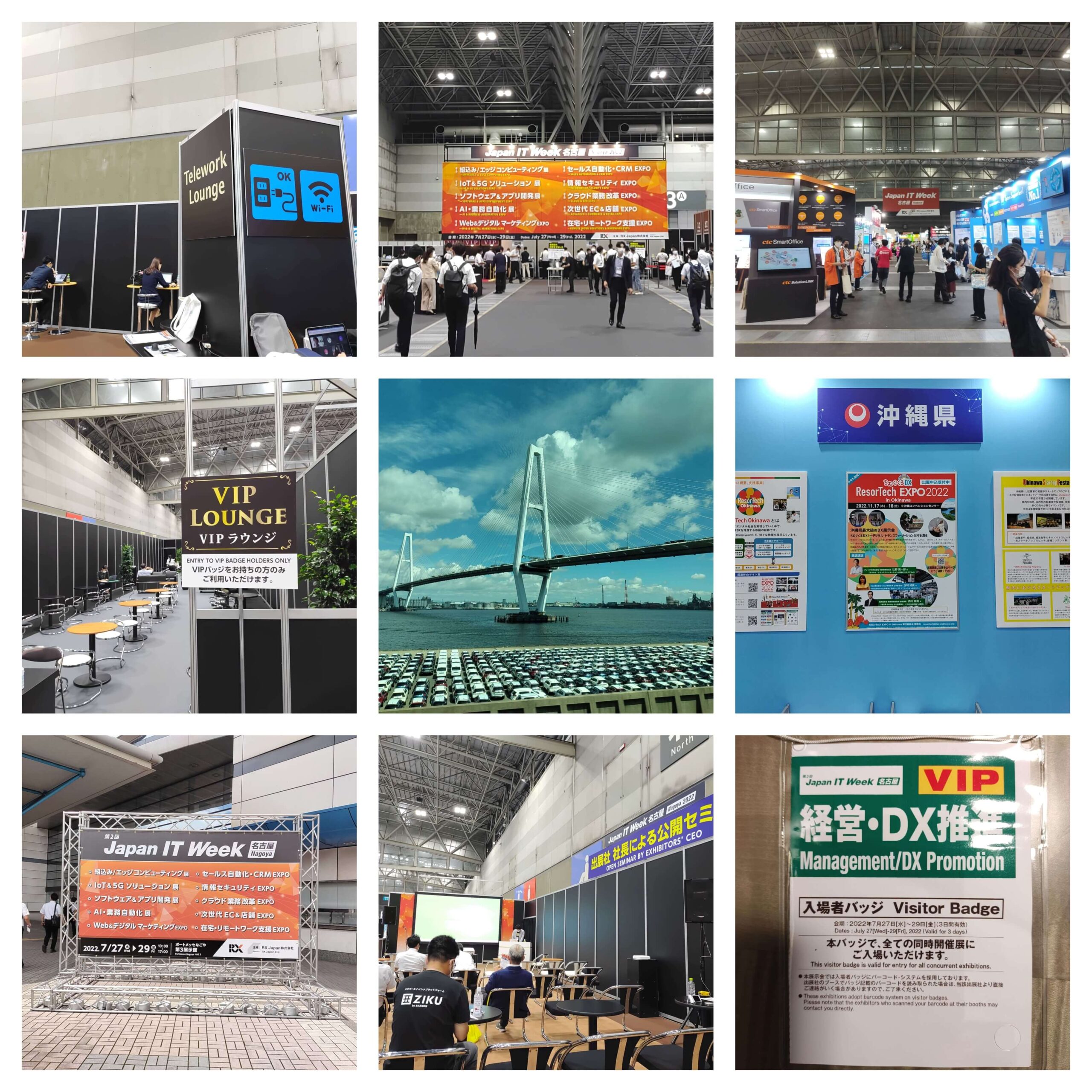 Smooth registration process
Registration process was smooth: Just like other Japan IT Week editions, you'll be required to present one business card which they will scan and print out as part of your badge. I suggest that you have a "standard size" Japanese 名刺 to allow for a frictionless registration process. If you do not have a business card with you, you'll still be able to register but you'll need to write your details on a different set of paper.
Depending on your role within the company, you'll be given a different badge color. Each badge will contain a bar code which each booth will be able to scan to get your contact information.
The companies that have booths during the trade shows were very aggressive in trying to get your attention and to have you listen to their pitch. I think it might also be caused by the type of badge that I have, which clearly states I'm in management (and thus means I'm a decision maker).
Smaller in scale
I have attended the Japan IT Week in Tokyo made by the same organizers, and in comparing both in terms of scale Nagoya was around a quarter of what was on display at the capital. There was only a single track for seminars, while in Tokyo you would have multiple tracks running at the same time.
Japan IT Week Nagoya takes up the whole space for the one event hall they have in Port Messe Nagoya. In comparison, the Japan IT Week they have in Tokyo takes up four halls and two levels within Big Sight. If you don't spend too much time stopping at each booth, it might just be possible for you to visit each booth within two days in Nagoya, but this will be impossible for you to do if it was in Tokyo.
Most companies are from Tokyo
Based on the material provided by the organizer, most of the attendees are said to be from Nagoya and the surrounding Chubu area, which is expected.
Most of the companies within the SaaS sector I visited seemed to be Tokyo based. I assume that they are here to create a presence and have better sales to their customers in this region.
But they do showcase local companies
There are some exceptions of course.
One side of the exhibition hall was reserved for companies within the manufacturing industries, to showcase their efforts in digital transformation. There were examples of the usage of IoT and also 5G technologies within their manufacturing pipeline. I find it meaningful that the organizers have invited keynote speakers from local governments such as the Nagoya City Hall and DENSO Corporation, a global manufacturer of car parts based in Aichi-ken.
What I learned
Because of my VIP ticket, I was able to attend the seminars free of charge.
I didn't attend all of them. These seminars are usually tie-ups between customers and vendors to showcase their products and how these products have helped them in their businesses. In the end, it's a product pitch, but less vague and has more value because you'll get a chance to see what the problems each company presents and how they have managed to solve them, even if it means using the vendor's solutions.
Building a workforce for transformation
One of the seminars that I attended was themed 「企業のDX推進に必要な人材育成とは」or "The human resource development necessary for promoting Digital Transformation (DX) within a company".
The showcased examples of challenges faced by organizations while cultivating and building the necessary talents for DX were: The Nagoya City Hall (public sector) and DENSO Corporation (private sector).
Some of the takeaways I managed to get down during the talk:
– Plan ahead: Nagoya City Hall plans their intake 4 years ahead in anticipation when university students graduate
– You'll need buy-in from all levels within organizations
– Allow the rank and file to have the freedom to try to create digital solutions to their own problems, such as no-code or low code solutions because they are the best to know what needs to change
– The IT division's role is to create a framework to support the new solutions instead of only vetting them
– Top management's role is to propagate the success stories of internal DX and act as evangelists to other parts of the organization.
It is during this seminar that I also learned about the existence of Japan Deep Learning Association  (JDLA) and the various certifications it offers.
Predicting the future
Other than the "paid" free seminars by the organizers, there were also company organized seminars done for free for the attendees. I attended one which was organized by xenodata lab where they presented their product Xenobrain.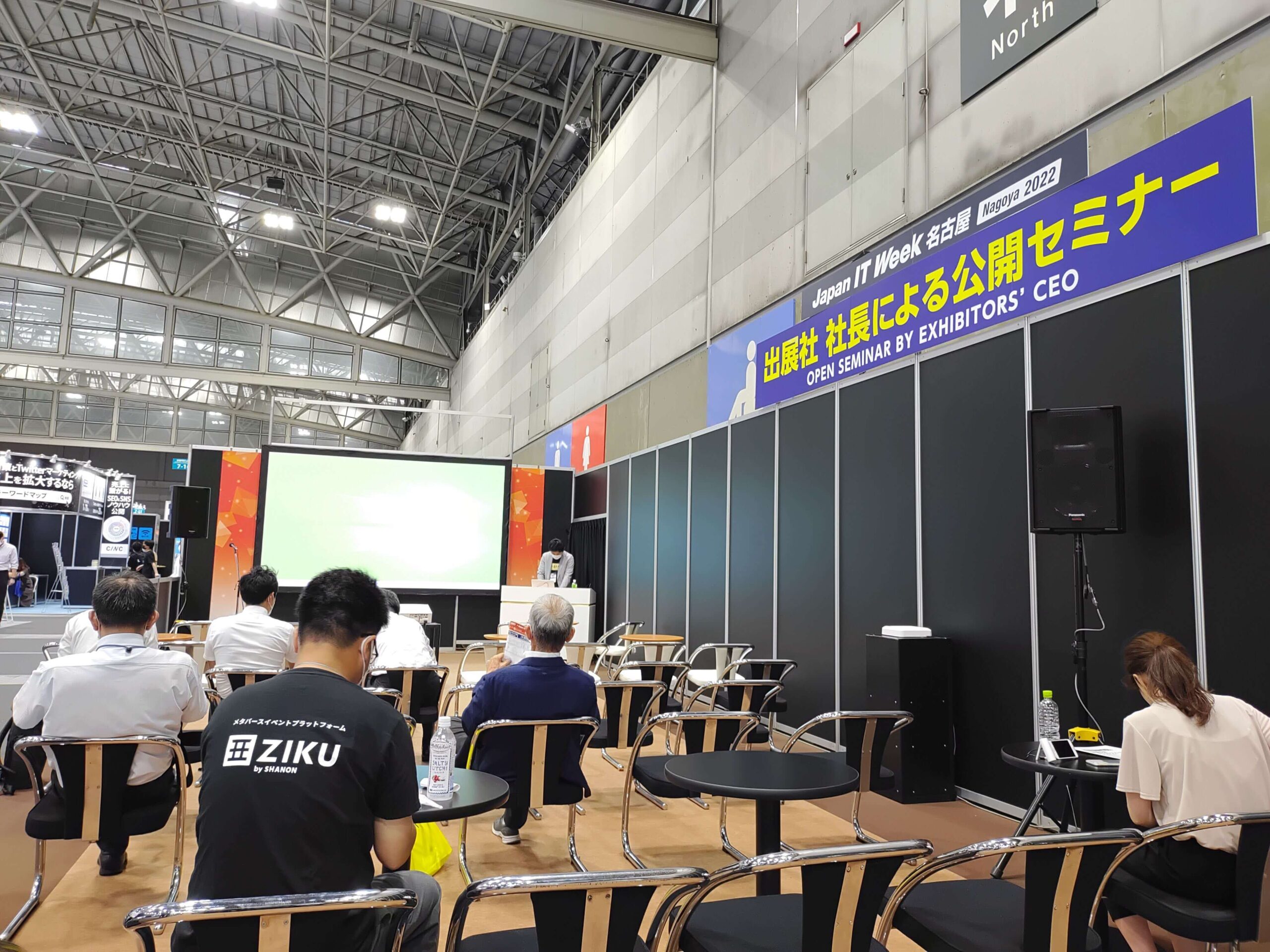 Xenobrain is a SaaS product that in essence helps you to predict the future. Xenobrain takes news articles from over 100 news outlets from the past 10 years and analyzes each article for summary and keywords recognition. Based on this analysis, direct and indirect impacts on particular keywords or market elements are shown via a tree graph. Xenobrain can analyze and predict data for companies, commodities and equities on the public markets.
To sum up
Although the scale of the trade show is smaller than what we have in Tokyo, I did manage to visit a few booths from companies that we might be able to partner with. Because of the small number of people, I was also able to have deeper and longer conversations with them.
There were also seminars which showcased local companies and their success stories, which you wouldn't be able to get at in the Tokyo trade shows.
All in all, it was a fruitful expedition for me, and perhaps attending the Japan IT Week in Nagoya again in the near future would be something I would like to do again.