GNOME.Asia Summit is an annual conference for GNOME users and developers in Asia. The event focuses primarily on the GNOME desktop and other devices that use GNOME, and also covers GNOME-based applications and GNOME development platform tools. It brings together the GNOME community in Asia to provide a forum for users, developers, foundation leaders, governments and businesses to discuss both the present technologies and future developments.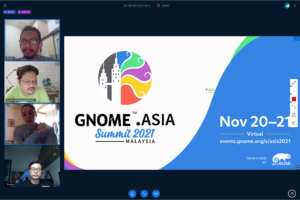 Yesterday, they held their annual conference online and I was one of the speakers, presenting the topic of "Exploring Open Source task queue and implementing one using Python and PostgreSQL".
This is my first time getting involved with the Gnome Asia community, despite being a user of the GNOME Desktop environment for years.
The conference was supposed to be a physical conference but since travel restrictions are still in place for international travellers in Malaysia, it has to be done online again, like the previous year.
Being a large open source project, the Gnome Asia community really takes the full spirit of open source by conducting the conference using an open source platform. They use BigBlueButton (BBB) video conference platform provided at https://meet.gnome.org/. This is also my first time experiencing BBB and I can say it's not that bad. Of course when compared with commercial platforms such as Airmeet, there is still a long way to go but they can be proud of having such an infrastructure of their own.
Events management, from CFP handling to attendee registration are handled using another open source platform, Indico, which described themselves as "The effortless open-source tool for event organisation, archival and collaboration". To my surprise, it's implemented in Python using the Flask framework! I guess this is the largest Flask app I have ever found so far.
The conference was running for 2 days and with 2 tracks running simultaneously. Fortunately since this is an online conference, I can be at both places at the same time by just having the room opened in a separate browser window 😉
The talk "A healthy git commit for everyday development" by Yudhi Satrio introduced me to the concept of commit driven development (CDD). Although for now I'm not convinced yet with the concept, it's good to know something new like that.
Then I got to know about the OnlyOffice productivity suite from the keynote of Dr. Suhaimi Napis, who's sharing his 20 years OSS journey. Dr. Suhaimi's talk also introduced me to SIFULAN in the area of federated identity access management and Identity as a Service (IDaaS) which are quite related to what we're doing at LaLoka Labs through our GETOTP services.
Another talk that I think gathered quite an interest from attendees was about Gnome Boxes by its own developer Felipe Borges. Boxes can be an alternative for Virtualbox and in fact is recommended as it uses a better approach toward virtualization compared to Virtualbox. Despite being called Gnome Boxes it actually works just fine in other desktop environments such as KDE.
Another new thing I managed to learn through the 2 days conference is the tools to implement GitOps concepts such as fluxcd, argocd and JenkinsX.
"Javanese Script In Gnome" by Mr. Faiq Aminuddin, a headmaster of religious school in Indonesia also an eye opening talk. It's amazing seeing how classical writing script still being used and it also was added to the Unicode Standard in October, 2009 with the release of version 5.2.

During the event's closing, we're told by the organizers that there's a possibility that Malaysia will be chosen as host again next year to organize the event physically. This is great news as everyone really excited to meet again after 2 years of movement and border restrictions.
The event recording is available on youtube so take your time to go through all the talks mentioned above. Till we meet again next year!