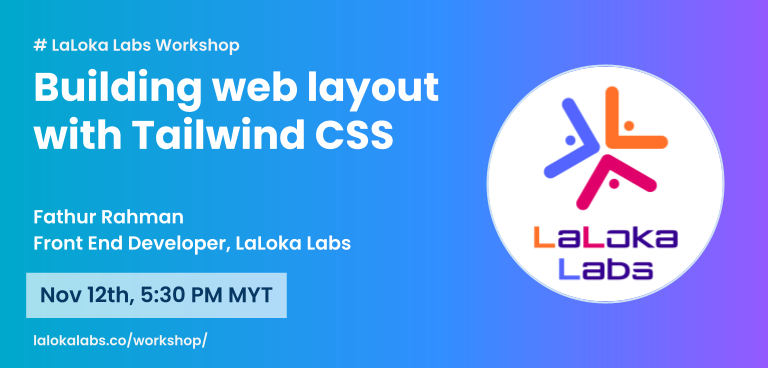 Tailwind CSS Workshop
Tailwind CSS is an extremely popular web design framework. If you are interested in learning Tailwind CSS, this workshop delivered by Fathur Rahman, Front End developer of LaLoka Labs, will provide you with a good kickstart.
What will you learn in this course? 👉
During the online session, you will learn how to build a simple web layout using Tailwind CSS.
By the end of this course you should know about:-
How to build your custom layout using Tailwind CSS
Responsive technique
How to use SVG icon
Bonus 🎁
Useful example of Tailwind CSS layouts
Pre-requisites:-
🚀 About the speaker 🚀
Fathur Rahman currently working as a Front End Developer at LaLoka Labs. Fathur Rahman has been a full-stack developer starting with PHP and then Python. Now focusing on Vue and Tailwind CSS.
LaLoka Labs is a company building software to save people time, money, and make them happier human beings. Using technology to come up with solutions that give people more autonomy. To help people be more productive, get things done, and go enjoy their lives. Check Laloka Labs website for more: https://lalokalabs.co/
---
Recording
---
Register your seat for Tailwind CSS Workshop
Registration closed